Programme
ECVP 2015
ECVP starts on Sunday (August 23rd) with a reception and the Perception keynote, both within the Metropolitan Cathedral. The reception will start at 6pm. Registration will be open from 9am on Sunday within the Central Teaching Hub on campus. The two locations are only a few hundreds metres from each other.
The programme extends over 4 full days (Monday-Thursday). There will be a closing ceremony on Thursday night. Please plan your travels accordingly.
Programme available online and for download
The full programme is available following the link below. These pages are generated from within Easychair, and they include clickable links to the abstracts. They also include information about the location of the sessions and more. There was a bug in Easychair that meant that although we entered the data so that Session 2A was in room A and 2B in room B and so on, some of the sessions were renamed by the software. Sorry about that.
http://www.easychair.org/smart-program/ECVP2015/index.html
The online programme has links to the abstracts. However if you prefer a pdf file with the programme you can download it here: Booklet.pdf.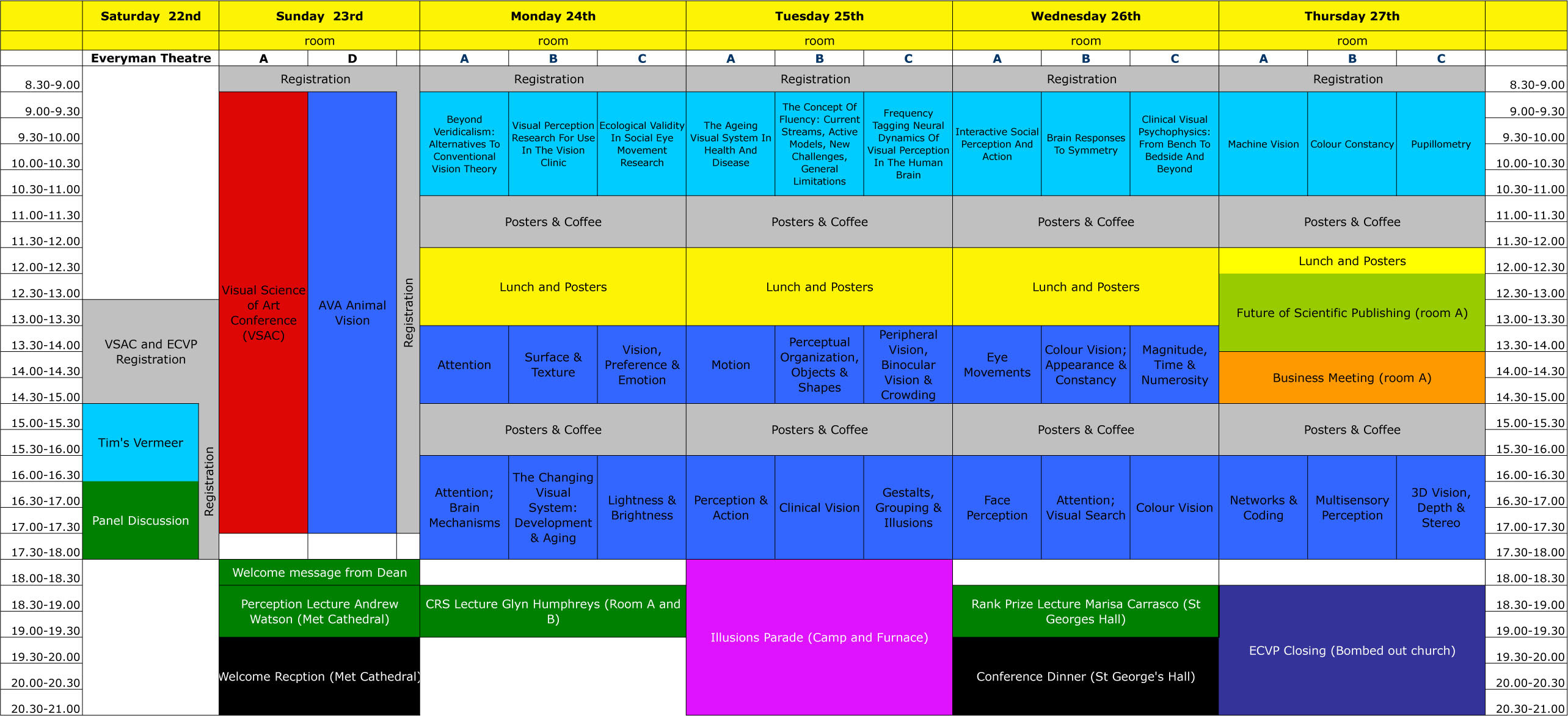 Saturday August 22nd: Tim's Vermeer
If you have registered for ECVP or a satellite meeting you also have the opportunity to reserve a ticket for the event on the Saturday at the Everyman Theatre. Please follow the instruction on that webpage to apply for a free ticket.
Tuesday August 25th: Illusions Parade
The illusions night will be a large event this year open to the public in a venue called Camp and Furnace. More info on the dedicated page: Illusions Parade
Wednesday August 26th: Social Dinner
Do not forget to secure your ticket for the social dinner in St George's Hall. Apart from the location and the food we have also secured an after dinner lecture from Pete Thompson. We have also been given assurances that he will NOT be delivering the lecture in #The dress. Book here: Online Shop
Thursday August 27th: Farewell in St Luke's Church
We will be saying goodbye with drinks and live music in the grounds of St Luke's Church. It is known as the bombed church because, well, it was bombed and it has no roof.