Photos available online
Photos of various events are available following these links:
Programme
The full programme is available following the link below. These pages are generated from within Easychair, and they include clickable links to the abstracts. They also include information about the location of the sessions and more. There was a bug in Easychair that meant that although we entered the data so that Session 2A was in room A and 2B in room B and so on, some of the sessions were renamed by the software.
http://www.easychair.org/smart-program/ECVP2015/index.html
If you prefer a pdf file with the programme you can download it here: Booklet.pdf.
European Conference on Visual Perception
The European Conference on Visual Perception (ECVP) will take place between August 23rd and August 27th on the campus of the University of Liverpool.
ECVP is an annual meeting devoted to the scientific study of vision, particularly visual perception and multisensory processes related to vision. Recently attracting between 700-1000 participants from across Europe, North America and the Asian-Pacific region, ECVP is now one of the largest international conferences in the field.
ECVP has been held each year since 1978. It is a travelling meeting, moving to a different European location and hosted by a different local organising committee each year. The goal of the meeting is to provide a forum for the presentation and discussion of new developments in our understanding of human, animal and machine vision. Empirical, theoretical and applied perspectives are all encouraged.
The meeting consists of talks and posters, which are filled through an open call for papers. Submissions are encouraged from scientists at all levels, whether established, early career, or students. Abstracts are peer reviewed and, if accepted, are published in the journal Perception.
The programme extends for 4 full days (Monday-Thursday) with a closing ceremony on Thursday night. Please plan your travels accordingly.
The opening event, as per tradition, is the Perception lecture on Sunday afternoon. However please note that there are also satellite meetings and workshops on the Sunday which you may find interesting.
The satellite meeting on Vision Science of Art (VSAC) has an opening event on Saturday at the Everyman Theatre. This has developed into a very exciting event with a panel discussion on the possible use of optical devices by Vermeer and other artists. We will set up a system for people registered for ECVP to apply for a ticket
Follow the links on the left for more information, including information about bursaries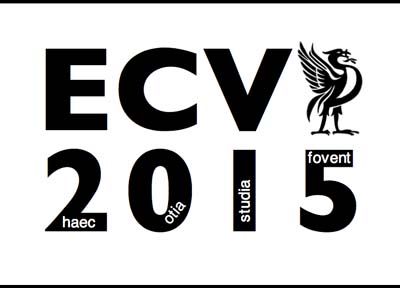 This year we have produced conference bags using a company called Freeset. Freeset is a social enterprise providing quality bags whilst helping trafficked women find freedom through sustainable employment: www.freesetbags.co.uk.
Details on past meetings can be found at http://ecvp.org